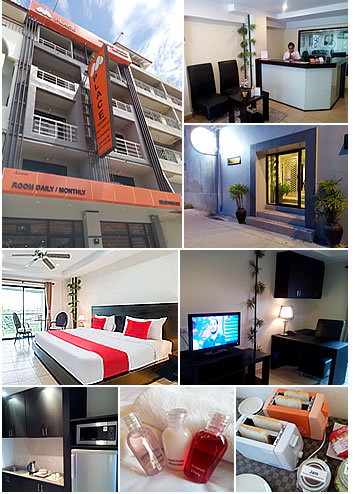 Welcome to M PLACE, Central Pattaya!

Despite being located in the heart of Pattaya City, M PLACE is tranquil, private and relaxing.

Pattaya is known as the Capital City of ASEAN Tourism. So, after you enjoy your long days with various kinds of tourist attractions and would like to recharge yourself with relaxing and quiet sleep, M PLACE is the answer. We are located in Central Pattaya, near big shopping centers, food outlets and very easy to travel around.

All of our rooms are ensuite and equipped with king-sized bed, air conditioner, hot/cold shower, refrigerator, microwave oven, electric kettle, pantry & crockery, cable TV, digital safe box, FREE hi-speed internet & WIFI, drinking water and toiletries, and key card access. We offer spacious, cozy and comfortable rooms at reasonable prices.

Other services such as minibar, tourist information, special price ticketing for shows & attractions, lending motorbike lock, photocopying, printing, scan, fax and document laminating are also available.

Kindly note that we are non-smoking premises and the reception hour is 9AM-8PM unless advanced appointment.



Copyright © 2015-2022 The M Corporation co.,ltd. All rights reserved.